River Series Stream Net #182- Maple Burl with Turquoise River and Bear/Trout inlay with I-MAG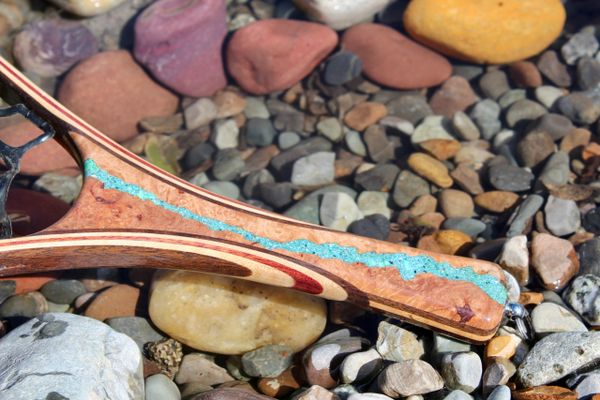 River Series Stream Net #182- Maple Burl with Turquoise River and Bear/Trout inlay with I-MAG
River Series Stream Net # 182
Handle: a-side  Book-matched Live Edge Maple Burl with Crushed Turquoise River
Handle: b-side Maple Burl with Bear/Trout inlay
Bow Laminations: Peruvian Walnut, Bolivian Redheart,Rock Maple
Bow:
11" X 16" 


Personalize your item with a Custom Engraved Monogram filled with black epoxy or crushed Turquoise. Standard engravings are 4 characters, however just about anything is possible. 
Denny (509) 570-8856 or email Sales@bitterrootnets.com
     

The burl handles on the Stream Nets are submersed in an Acrylic Stabilizing fluid in a vacuum chamber.

 

Upon releasing the vacuum, the acrylic is pulled into the wood filling the pores.

 

The handles are then heated to harden the acrylic in the wood.

 

This process not only strengthens the handles, It prevents the wood from absorbing moisture.

 

Which will ensure years of lasting beauty and reliable service. 

The stabilization process also gives us an opportunity to dye some of the burls to create some unique results.

  

Some Stream Net handles are embellished with semi 

precious stones like 

Turquoise

 or 

Malachite

. When just the right bark inclusion is found in a burl, we can even inlay a hand tied fly
Lifetime Workmanship and Finish Guaranty 
After considerable shaping and sanding are complete

 great care is taken to ensure the nets are 
protected from moisture and wear. 
Moisture is locked out by soaking each net for 2 days in a tung oil based commercial waterproofing oil.
Once the sealer is cured, wear protection is 
provided by 
5 coats of industrial grade polyurethane
.

We have developed this finishing technique to protect your net for life, and we offer a lifetime guarantee on the workmanship and finish to back it up.
(Most all other net makers simply wipe their nets with a good coat of oil and provide instructions for the owner to continuously re-coat the net with oil to maintain the finish.)