Q. Can I supply the fly that you use to make the nets with a fly in them?
  A.Yes, it is a service we provide often. Simply call (509) 570-8856 or Email, Dennyc@bitterrootnets.com to set it up.
---
Q. Do you have an example of the engravings?
  A.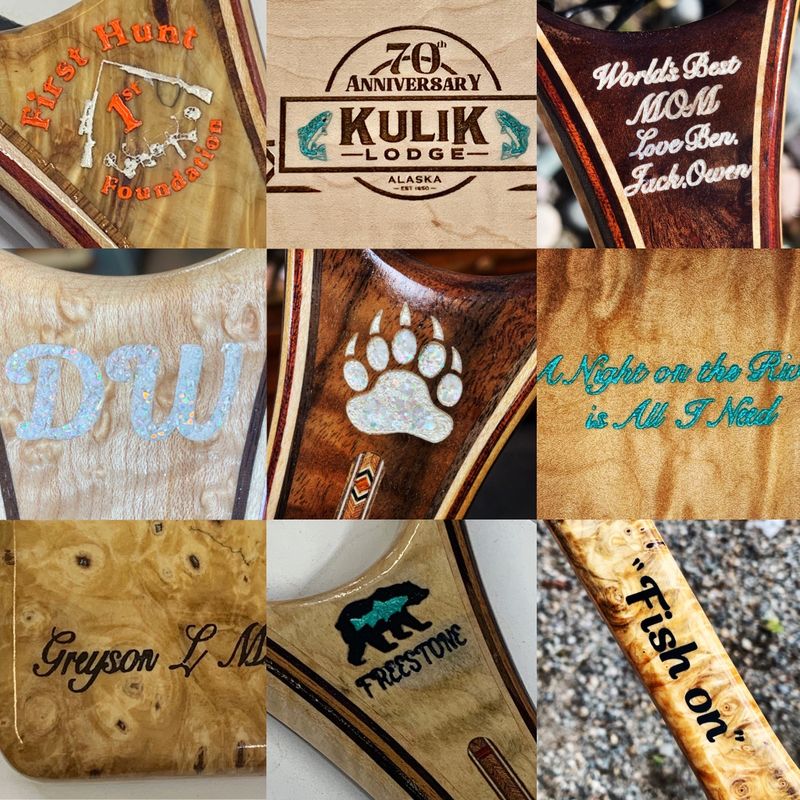 ---
Q. Are the nets and boxes on the website in stock?
   A. Most of the Nets and Boxes on the website are in stock and will ship within a week of ordering. 
        Nets and Boxes marked as backordered will usualy ship in 2-3 weeks from order.
        If you need your items by a certain date. CALL or Email (509) 570-8856     
        Dennyc@bitterrootnets.com  We can usually accommodate most requests. 
---
Q.  Do I have to apply oil on the net all the time to keep the wood from drying out like other wooden nets?
  A. NO, you do not have to oil a Bitterroot Net or box.
        Most net makers simply coat the wood with oil and instruct the owner to constantly re-coat with oil every 6 months.
         Bitterroot Nets uses a proprietary complete sealing and finishing method that virtually locks     
         out moisture and dirt from your net or box.  We have designed this protection system to offer you a lifetime   
         of beauty and performance with zero maintenance. 
         Durability and protection aside, nothing beats the luxurious look and feel of hand finished and buffed exotic 
         Hardwoods.
---
Q.  What kind of warranty does Bitterroot Nets have?
  A. Bitterroot Nets warranties our items for the life of the owner to be free of defects in materials or workmanship. If you 
      have an issue with your item we will repair or replace to your satisfaction. Even if you break it, give us a call. We can 
      probably fix it.
---